Gold Plated Sterling Silver
With proper love and care, you can keep your gold plated jewelry shining for longer. 
Steer clear of harsh chemicals. We recommend removing your pieces before swimming, washing your hands, showering, or applying lotion, sunscreen, makeup, or perfume. Avoid exercising or sweating with your jewelry, as perspiration can cause the gold to wear off. 
Properly storing your jewelry is just as important. To minimize scratches, store your pieces individually in an airtight space. Doing this will also limit oxidation (and avoid those tricky tangles when your jewelry doesn't have its own space). We recommend the same storage method while traveling. 
To keep your pieces looking their best, please give them occasional breaks and clean them with a dry cotton ball or a very soft cloth after every use.
Shop Gold Plated Jewelry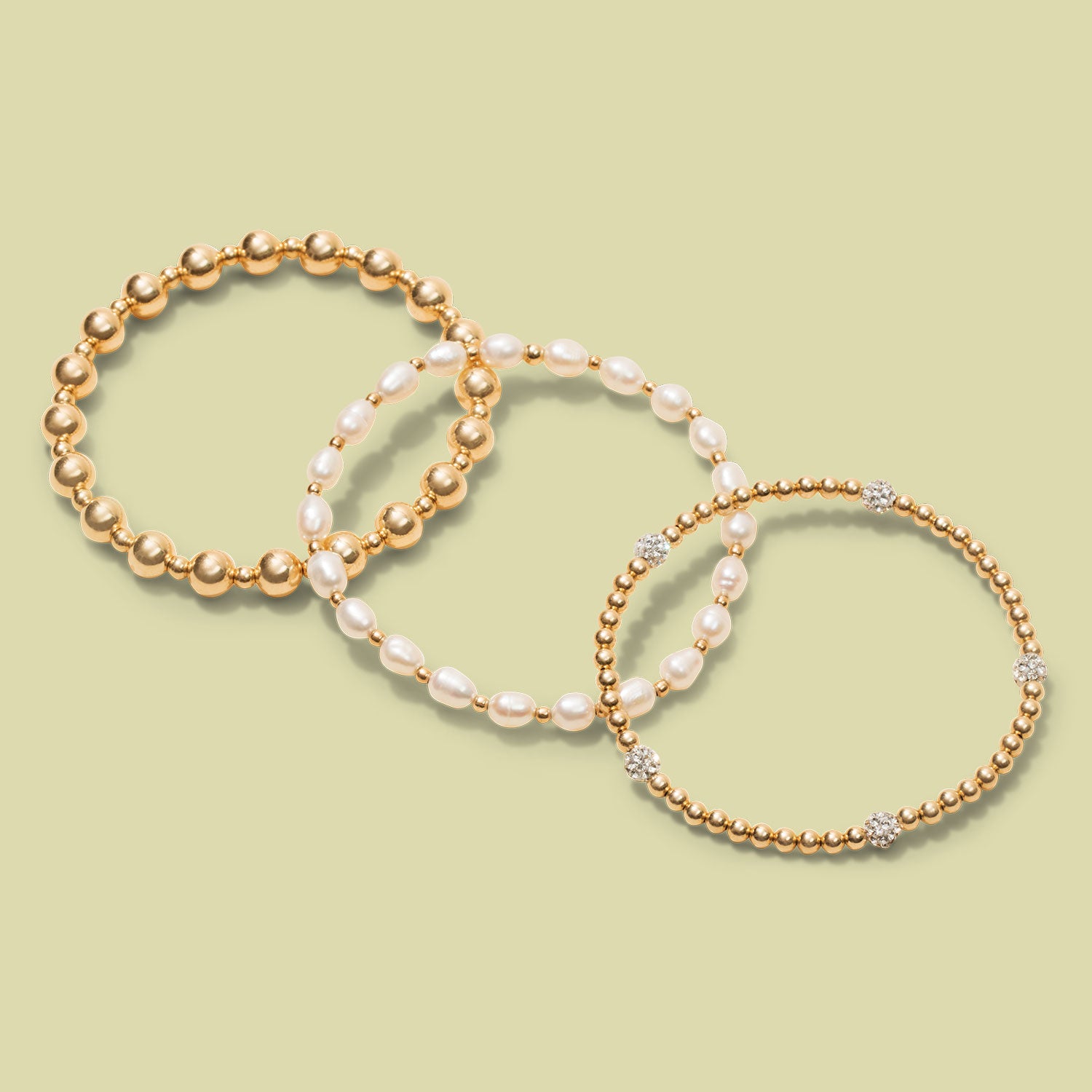 Gold Filled
If well cared for, your gold filled pieces can last a lifetime.
Gold filled jewelry is safe to wear in the water. But keep in mind — harsh soaps and chemicals can still cause damage to gold filled jewelry over time, so do your best to avoid contact with harsh soaps, cleaning agents, sunscreen, and beauty products. We also recommend removing your jewelry before exercising and entering salt or chlorinated water to prolong its shine. 
For best care, regularly wipe your gold filled jewelry with a dry cotton ball or a very soft cloth to remove any dust, dirt, chemicals, sweat, and body oils. If needed, give your jewelry a deep clean by mixing warm water and a gentle soap (like Dove or Dawn), let it bubble, and soak your gold filled pieces for 1-3 minutes. Rinse under warm water, and pat dry.
To avoid scratching and tangling, individually store your gold filled pieces in a jewelry pouch or in a separate compartment in your jewelry box. Keeping your jewelry separate is also a great way to protect it while traveling.
Shop Gold Filled Jewelry
Sterling Silver
Chosen for its durability and shine, sterling silver jewelry will maintain its gleam with the right care and attention. 
Sterling silver is safe to wear in water, but keep it away from chlorinated water, beauty products, and cleaning products that contain bleach. Use a silver polish cloth, a lint-free flannel, microfiber, or soft, nonabrasive cloth to clean your pieces. Silver scratches easily, so make sure you don't use paper towels or tissues on your silver jewelry. It'll scratch your pieces with its sneaky but damaging fibers.  
Store your pieces in a jewelry pouch or in a separate compartment in your jewelry box to avoid scratches and tangles. Doing this while traveling is also a great way to protect your jewelry.  
Shop Sterling Silver Jewelry